MPP Innovation in collaboration with the First Baptist Church will be hosting a TOY GIVEAWAY this Sunday, 12/19/21, in Campbellsburg. The toy distribution will be on a first come first serve basis, and it will be one toy per child. No documentation is needed, just stop by during the hours noted below.

WWES 4th Graders went to Stage One to watch the production of The Best Christmas Pageant Ever. They read the book in class and the field trip will allow them to see the stage adaptation. #WWeGrow FUN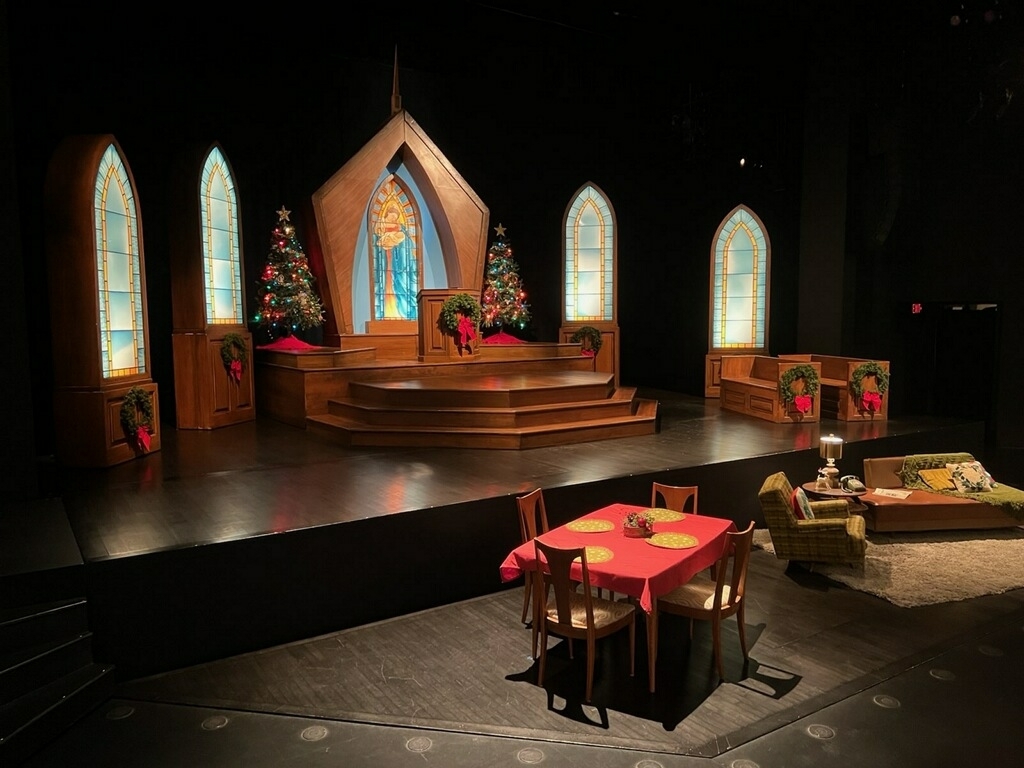 Safety Announcement: The West Washington School Corporation has become aware of a troubling post that has been shared widely this week on the social media platform TikTok. The post refers to a threat to school safety on Friday, December 17. The post appears to be part of a national TikTok trend. This has NOT been circulating in our school and it did NOT originate in our school. However, we will always take appropriate safety measures to ensure the safety of our staff and students. While we do not believe the threat to be credible, we are closely monitoring the situation and taking it seriously. Additionally, the district has been in contact with the Washington County Sheriff's Department and the Indiana State Police regarding the post. There will be an increased police presence in our buildings and on our campus on Friday as an added precaution. This situation serves as a good example of why it is important to avoid sharing posts online that refer to school safety threats. Even if they are not credible threats, they can cause a great deal of stress and anxiety for our students, families, and staff. We ask our families to monitor their children's social media activity and speak with them about proper behavior online. If you or your child become aware of any potential threat directed at our school, students or staff posted to social media or anywhere else, please notify a school staff member or trusted adult right away. As always, thank you for your partnership as we work to ensure a safe, secure, and positive learning environment for our students. With Senator Pride, Keith A. Nance, Superintendent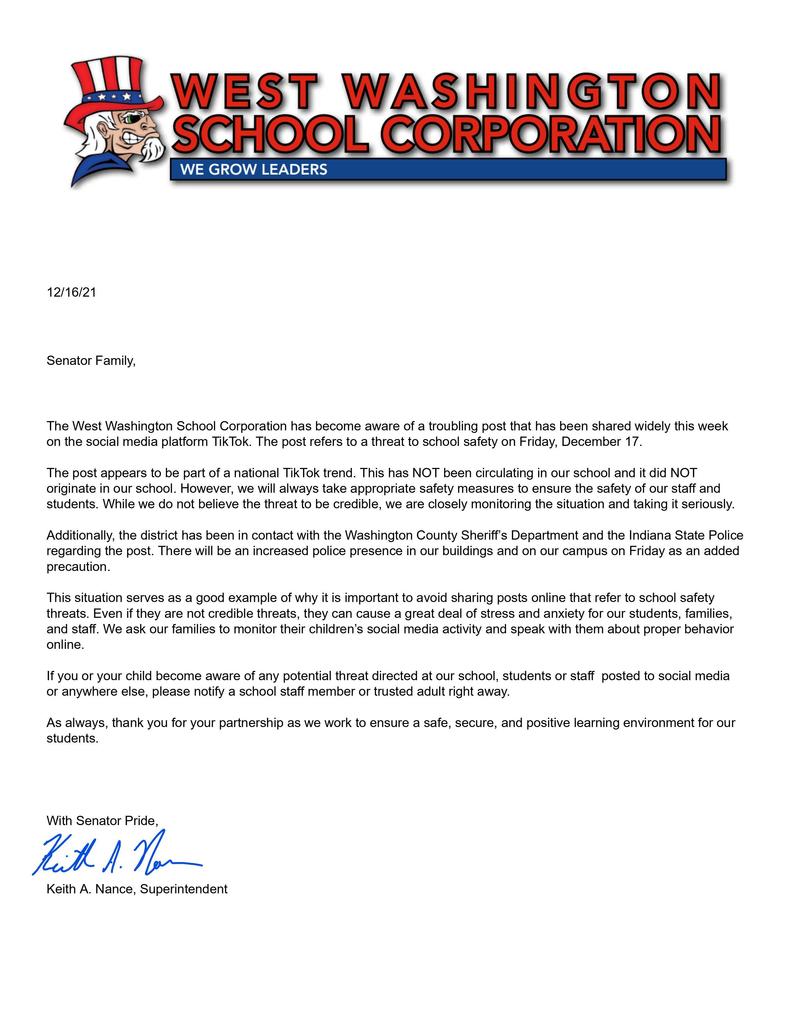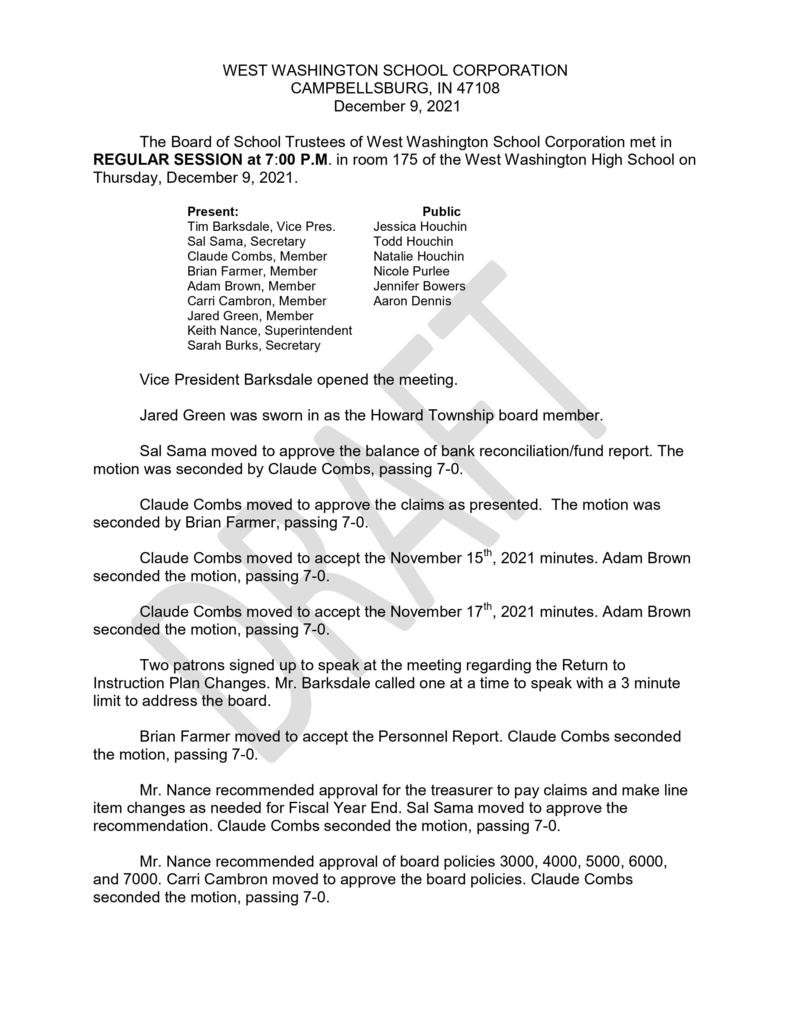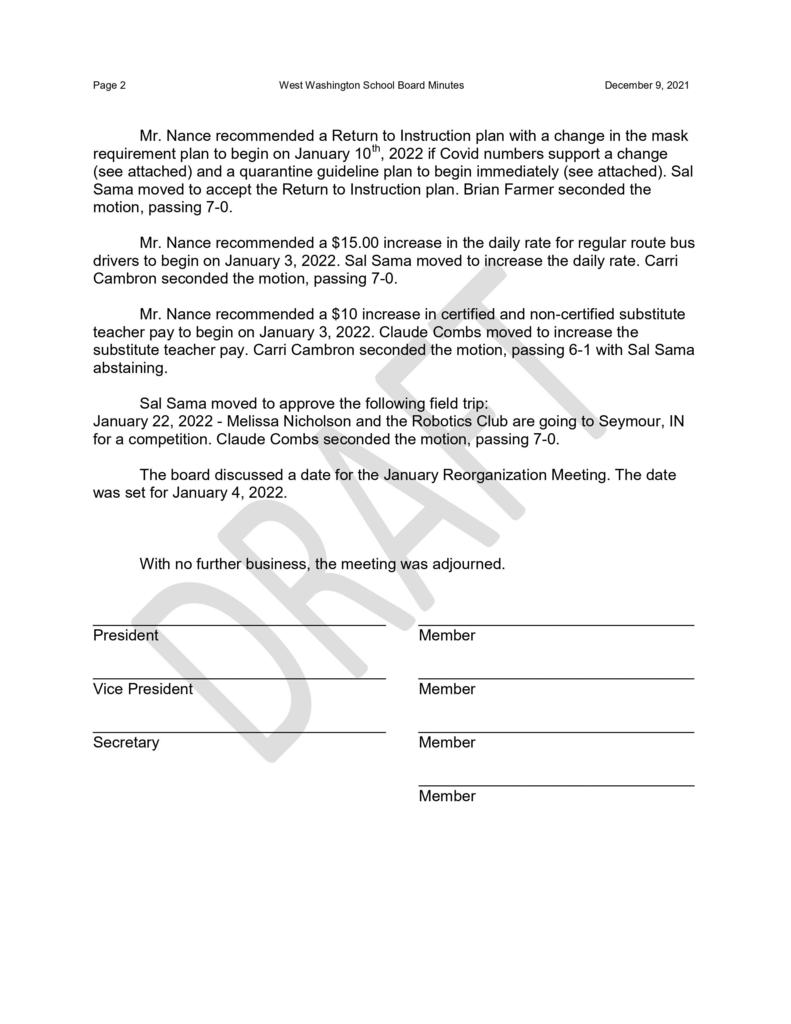 Super's Podcast 12/9/21 Topic: School Safety
https://bit.ly/3dE885D
The podcast will air on WWSR at 4, 5, 6, 7, 8 pm tonight and prior to Friday and Saturday night's basketball games. You can stream WWSR online or you can dowload the app.

WWSC will operate on a 2 hour delay schedule today, Wednesday 12/8/21. Roads have some slick areas, especially bridges. Overall they were safe for travel using caution. We had issues with some of our snow removal/salting equipment and could not prepare the grounds for an on time arrival. We apologize for the late notice.



A BIG thank you to MAC Construction for their partnership with WW High School. They have been a very active partner for our CTE classes. Today they spoke to students and dropped off hard hats, safety glasses and more! #WWeGrow PARTNERS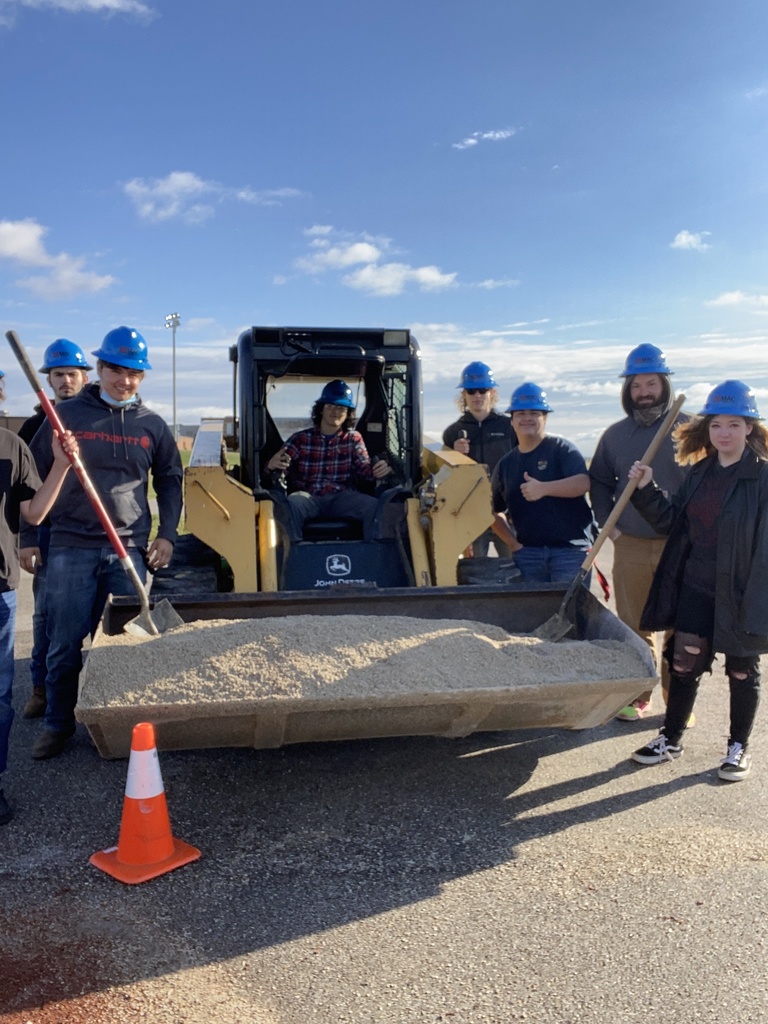 Join us on Sunday for our Christmas Concert. The concert is free to attend and will include Elementary Choir, Guitar Class, Piano Class and High School Choir. #WWeGrow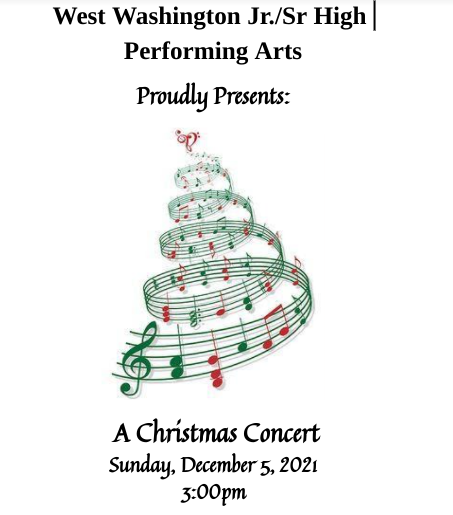 The December Board Meeting previously scheduled for Monday 12/20/21 has been moved to Thursday 12/16/21.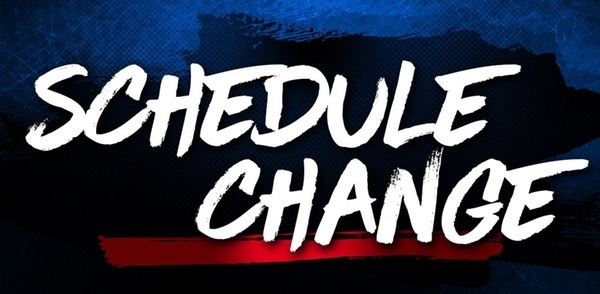 11-17-21 Draft Board Minutes

November 15th Draft Board Minutes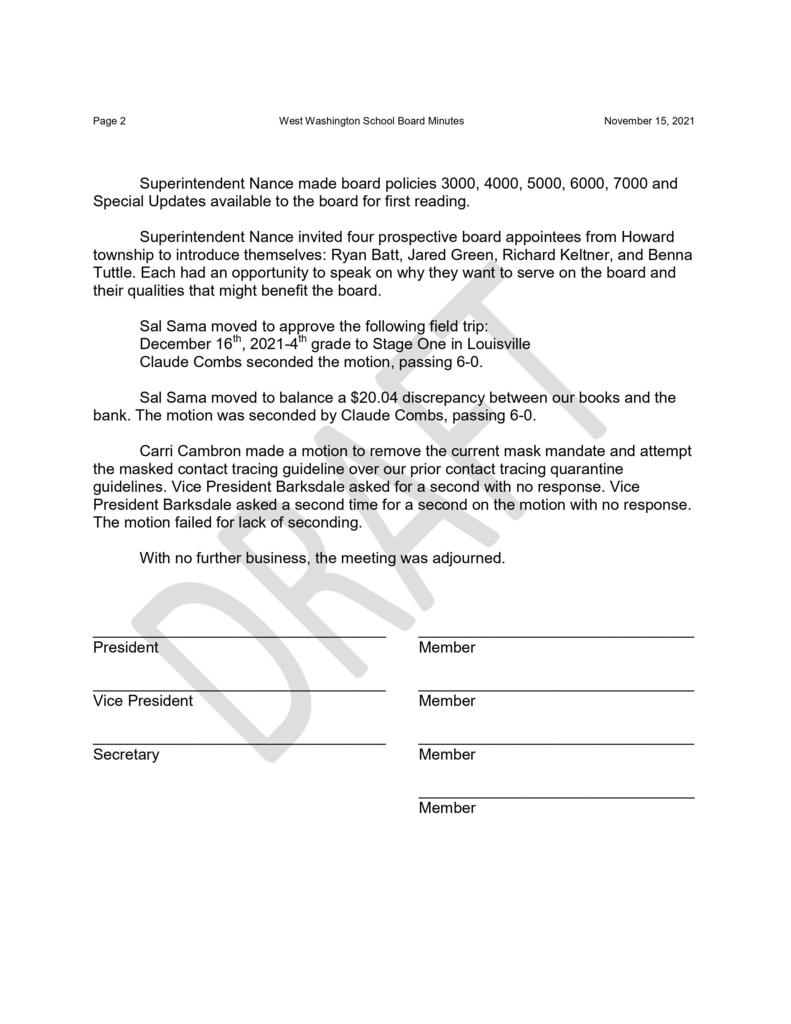 Board Meetings- 11-15-21 11-17-21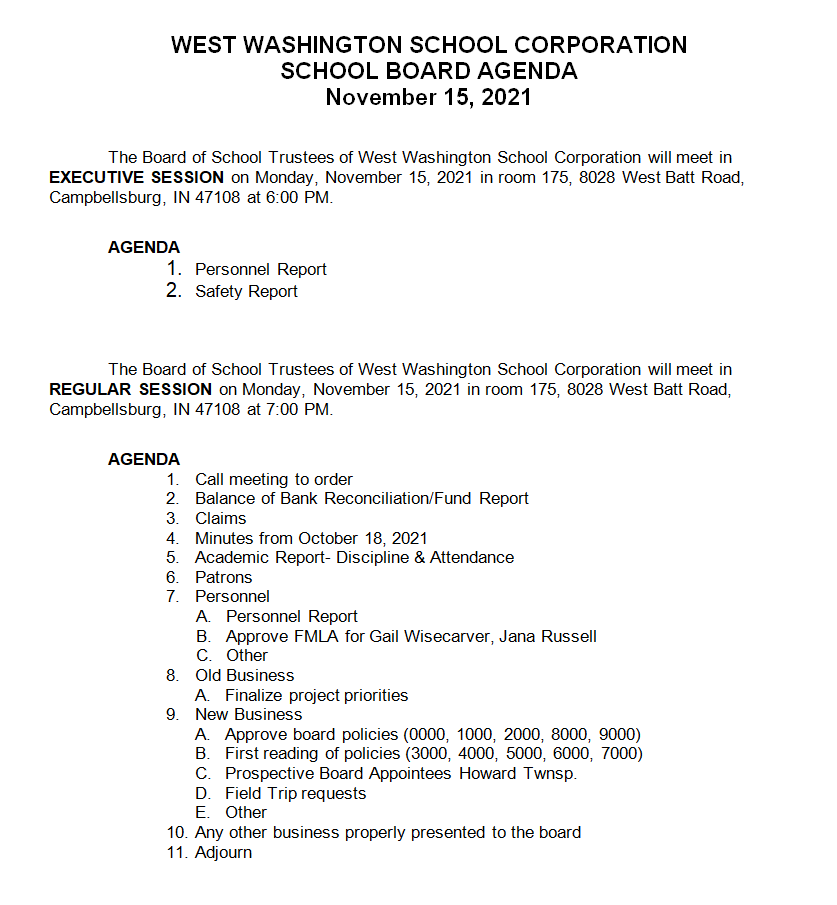 WWHS Performing Arts Turkey Dinner Sunday, November 21, 2021 - 12:00pm to 2pm The menu this year will be turkey, dressing, green beans, mashed potatoes and gravy, a roll and a slice of pie (pumpkin or apple). This year's dinner is being catered by Dar Knapp who comes with exceptional reviews. This year's dinner will be pick-up only. To retrieve your meals, simply pull up around the pick-up lane in front of door 2 (the high school office). A student will come to your car, collect your tickets and dessert requests, and your dinners will be brought out to you in your car. Tickets are available from any Performing Arts student or from the high school office. They are $15.00 for adults and $12.00 for children.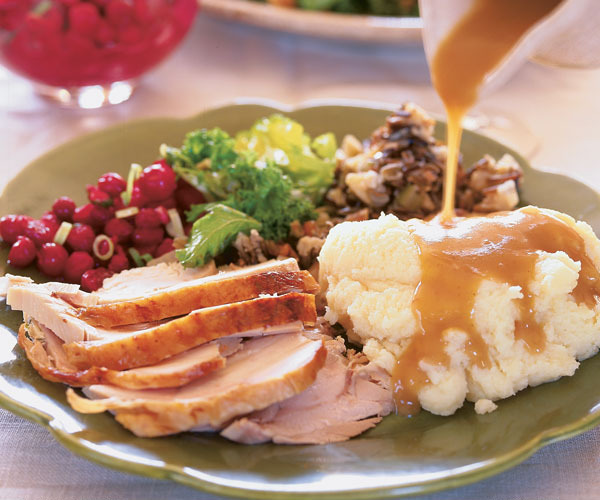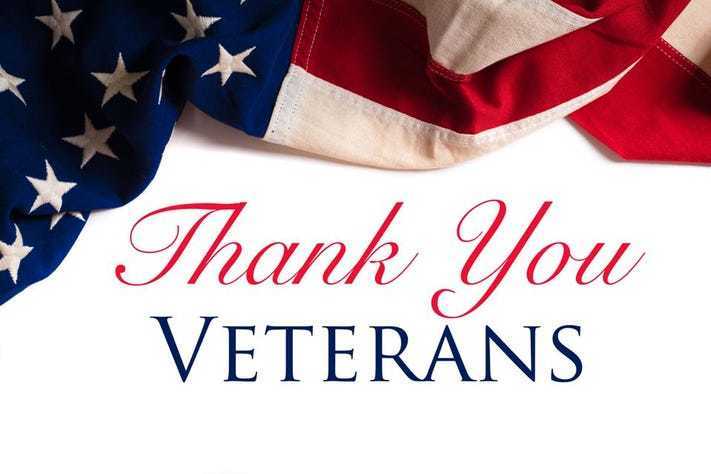 Campus Soft Lockdown Letter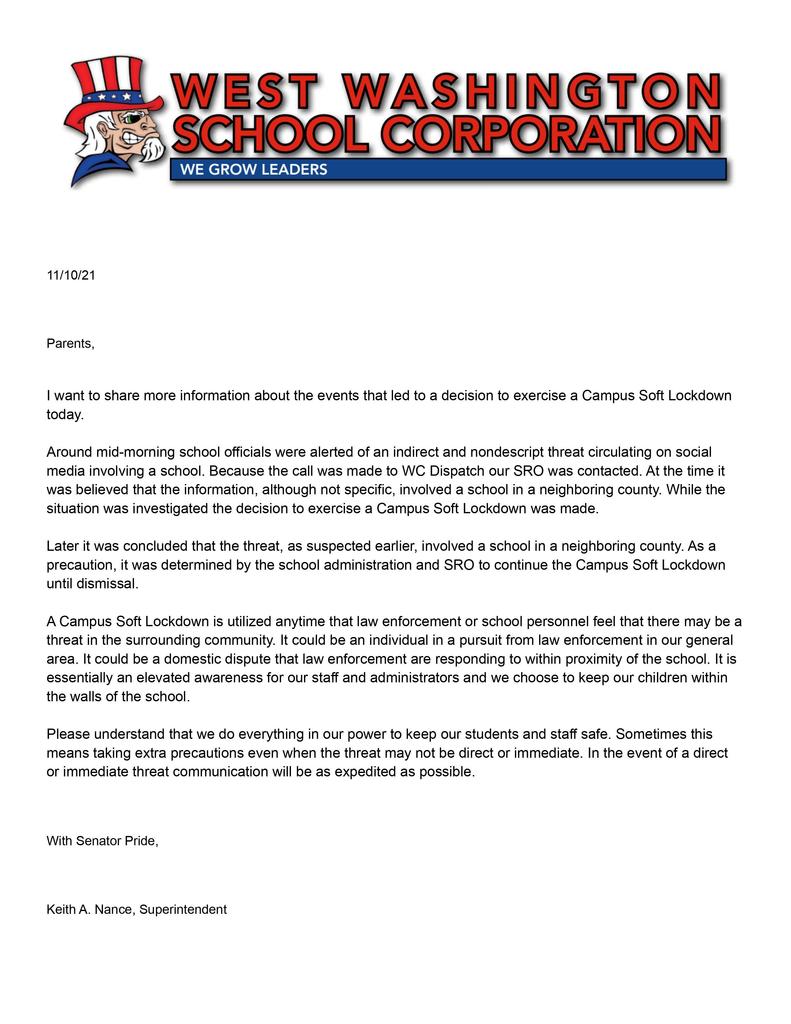 Job Posting: Developmental PreK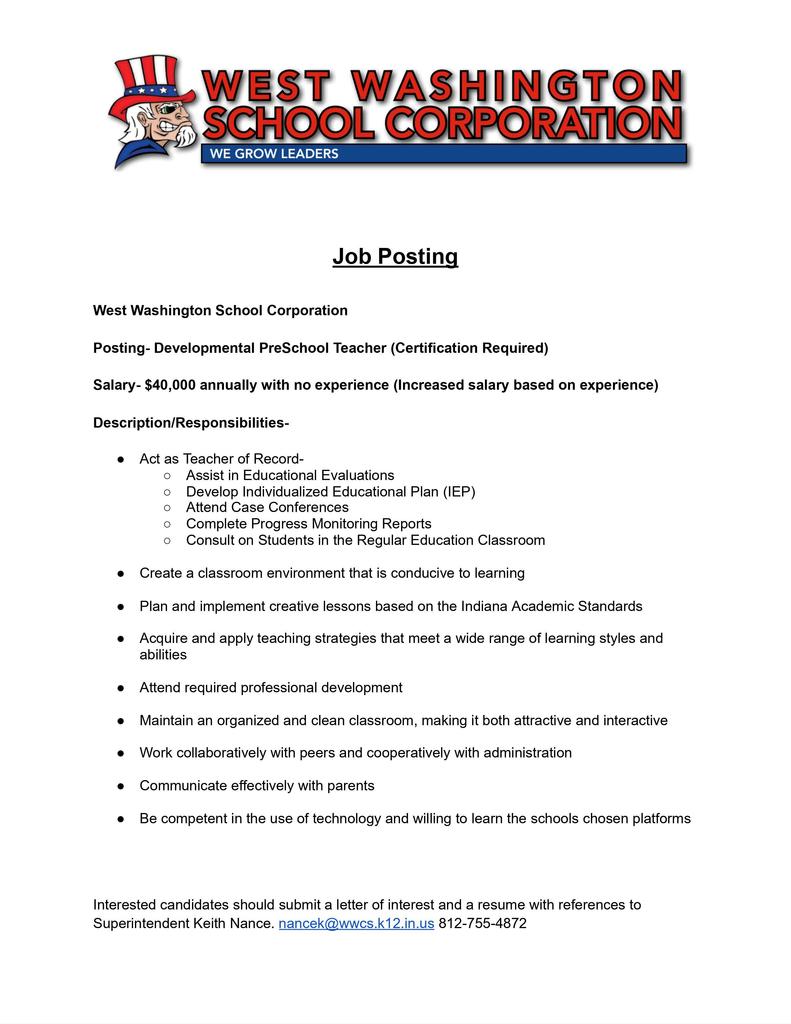 National Honor Society Induction Ceremony Tuesday November 2nd 7:00 pm Auditorium Stage (Old Elementary Gym) No Food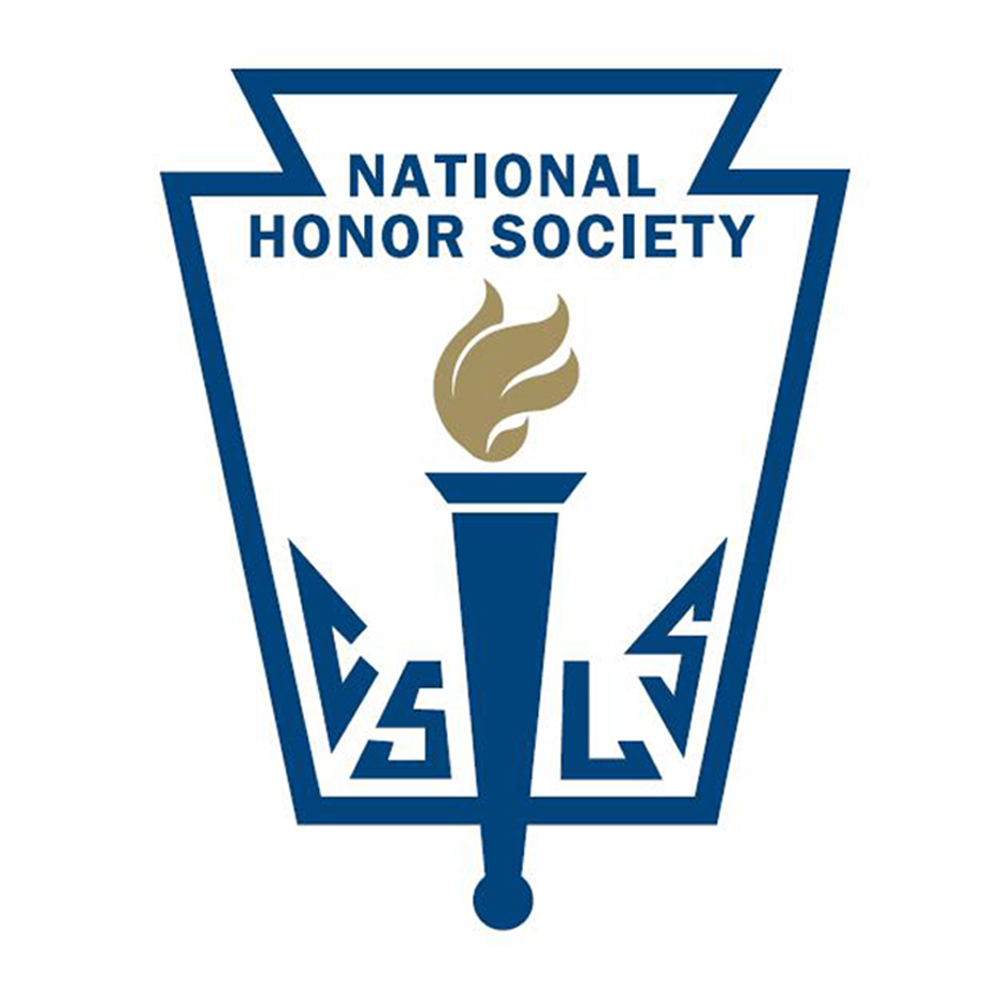 SCHOOL BOARD MEETING AGENDA 10-18-21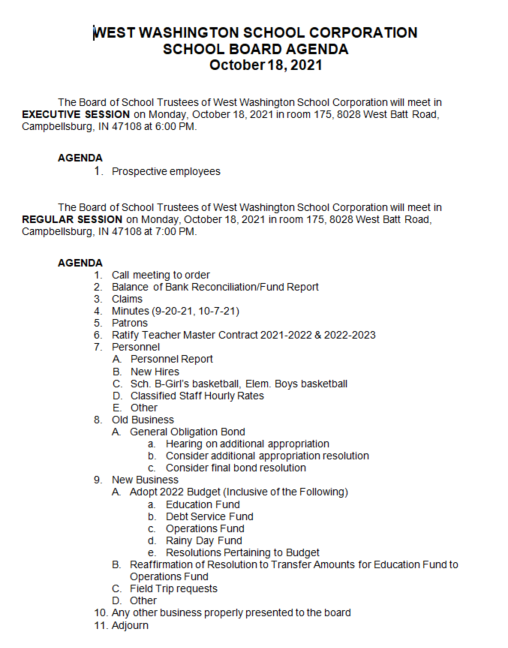 Be on the lookout for our new Spotlight Series. We will spotlight students, staff and alumni throughout the year. You can nominate individuals to spotlight. Simply fill out the form below.
https://forms.gle/1sSeQxCqL6DpqoDH7
#WWeGrow SUCCESS