It is supposed to be bitterly cold in the morning. Our threshold for delaying or cancelling based on temperature is 0 degrees raw temperature or -10 wind chill or below. At this time the prediction of temperature is above that threshold. At this time, we will be operating on a normal schedule Wednesday 1/26/22. Please dress children appropriately for the weather. If the weather causes any issues with water and children need to use our shower facilities that can be arranged through our counseling offices.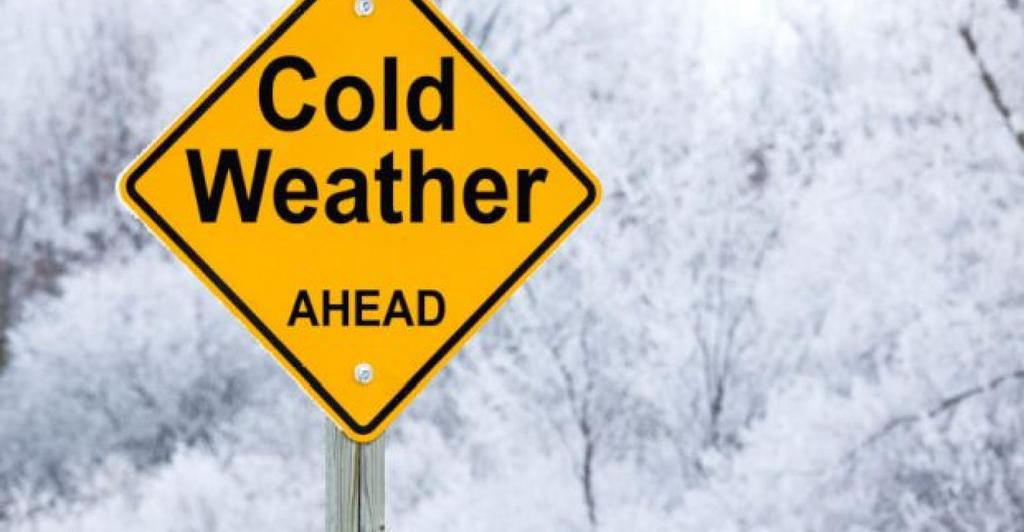 Today WW Elementary competed in their first Robot Team Challenge. They had a strong finish for their first ever competition. The students did an excellent job demonstrating what they have learned and representing the school. We are proud of you! #WWeGrow STEM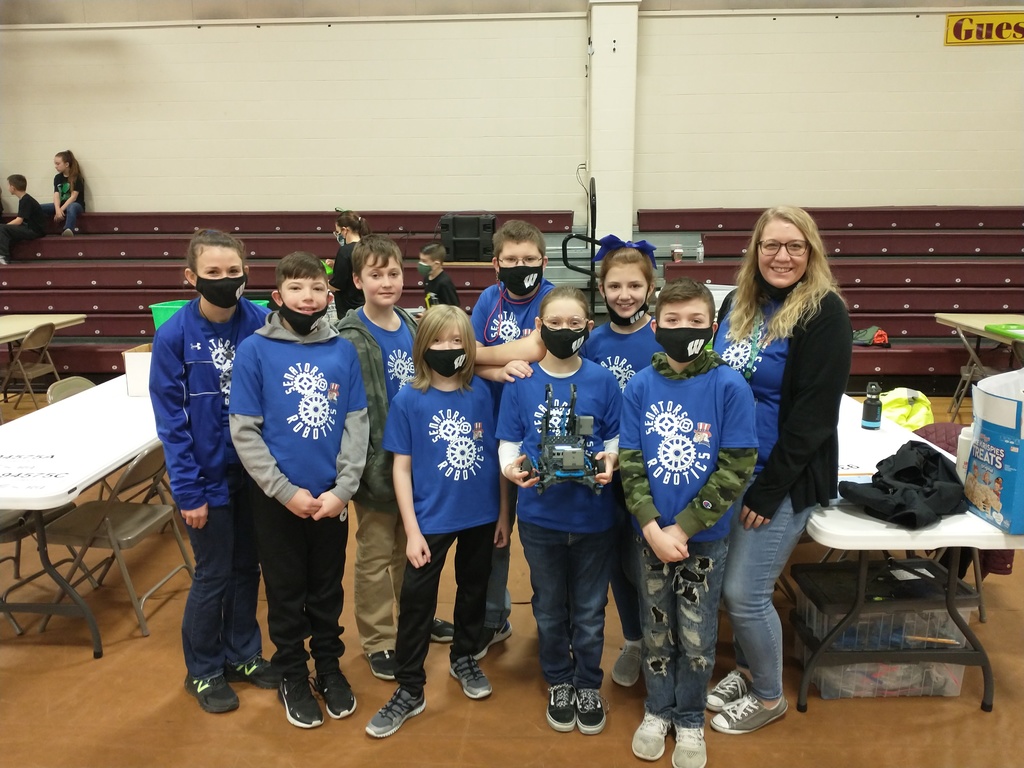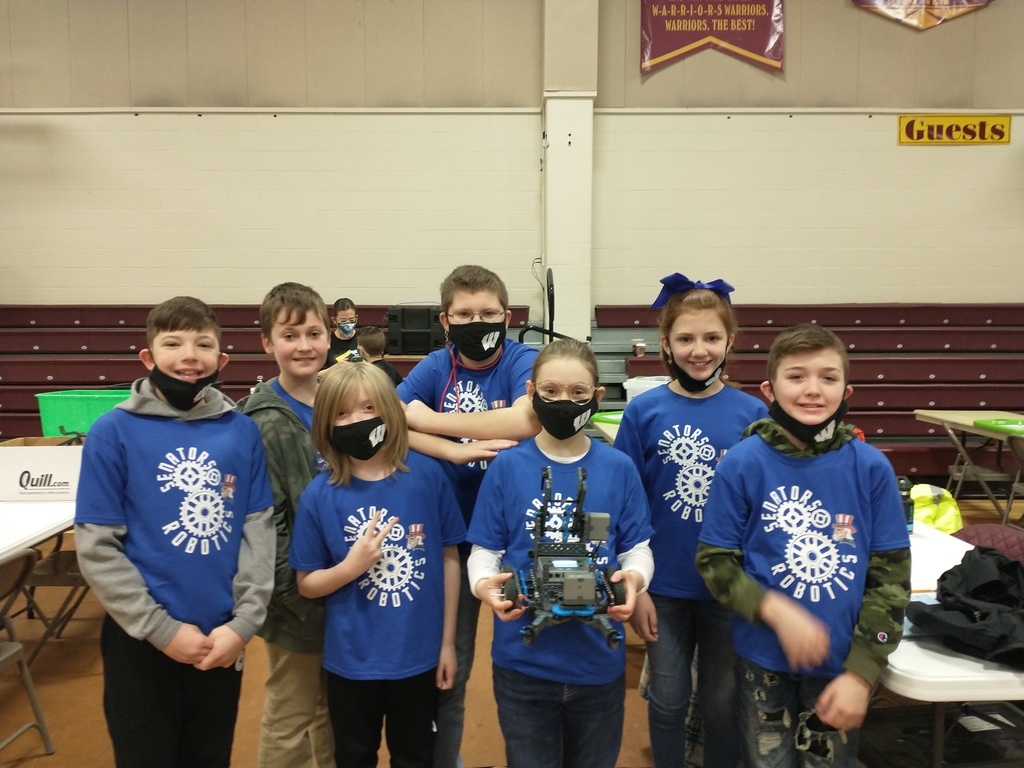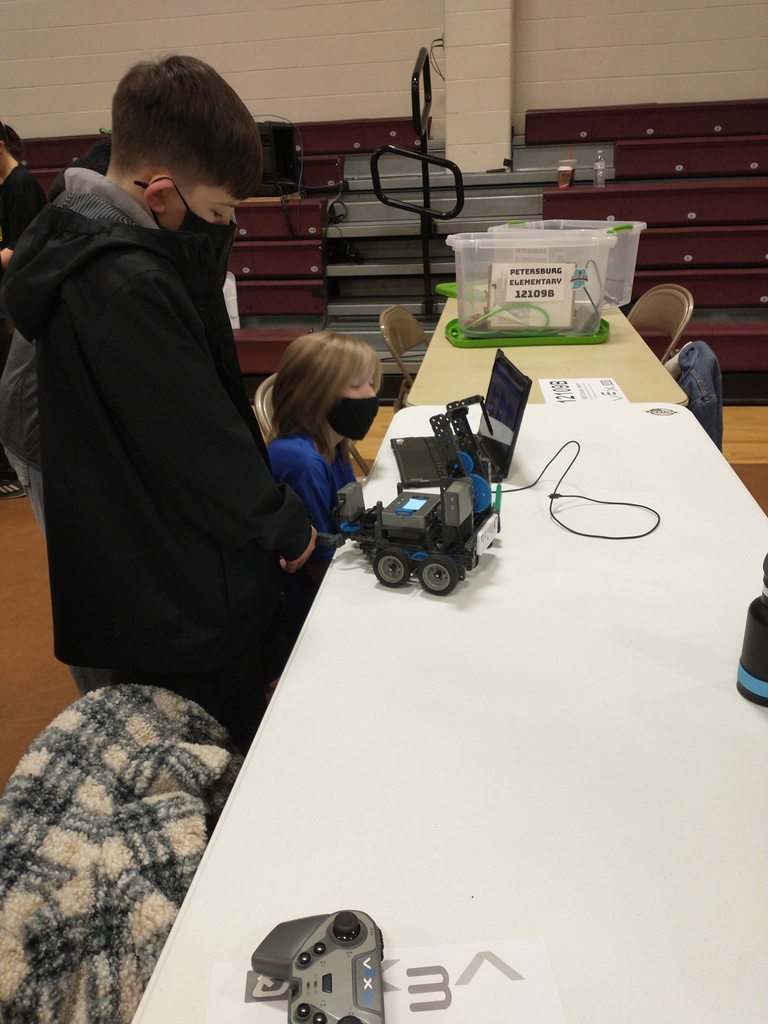 The PLAC Championship came down to the final dual between West Washington and Mitchell. The WW Wrestlers won in dominant fashion. Great job wrestlers! #WWeGrow CHAMPIONS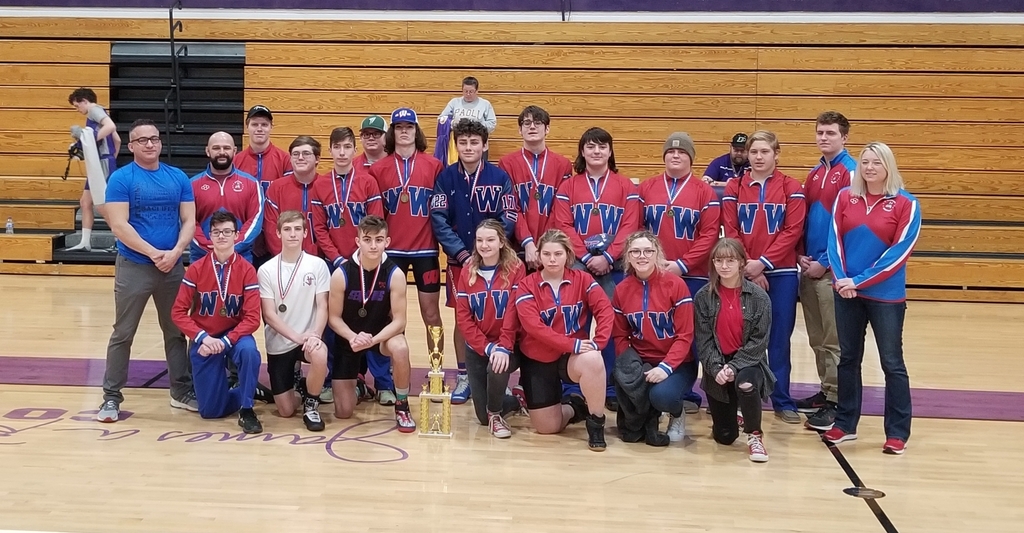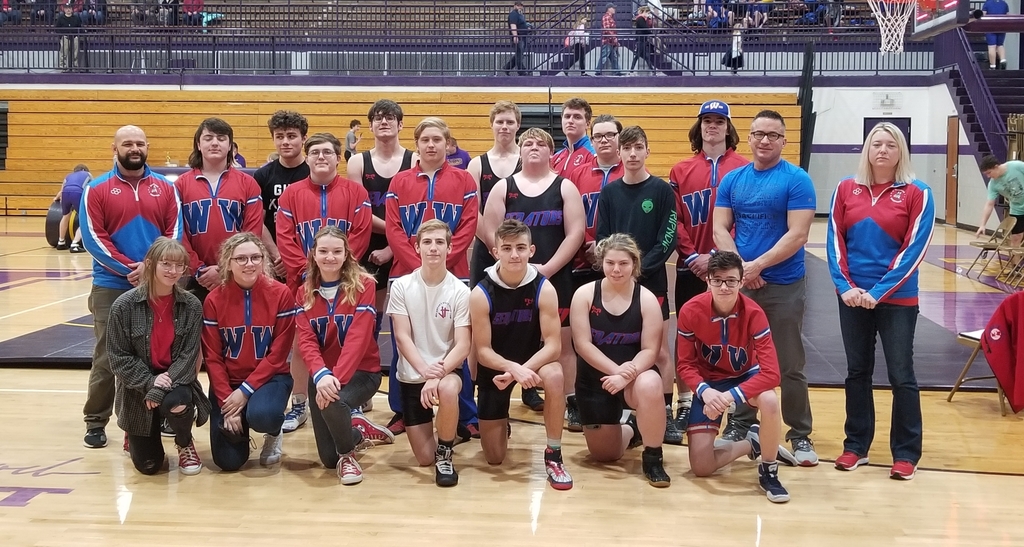 WWSC will operate on a NORMAL IN-PERSON schedule beginning Thursday 1/20/22.


WWSC is set for a return to in-person instruction tomorrow Thursday 1/20/22. The weather will be monitored this evening and announcement will be made about the schedule prior to 9 PM.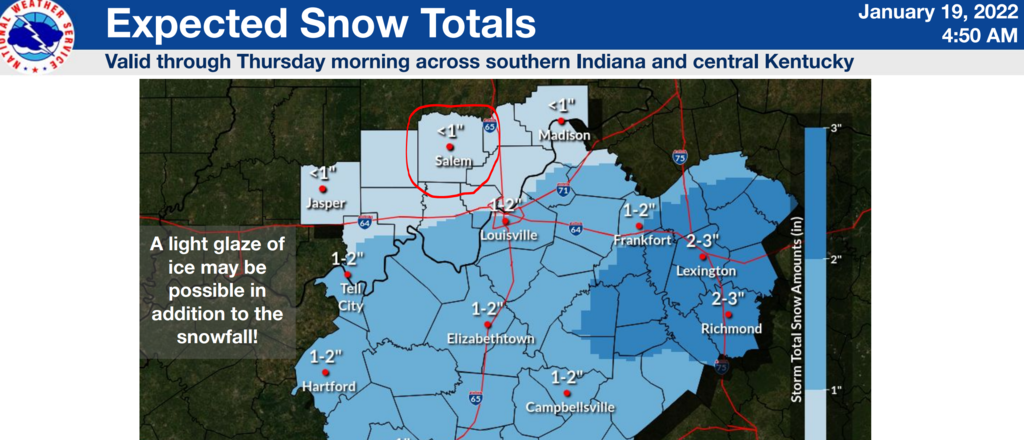 Planning Session and Board Meeting Scheduled for today have been postponed to Monday 1/24/22.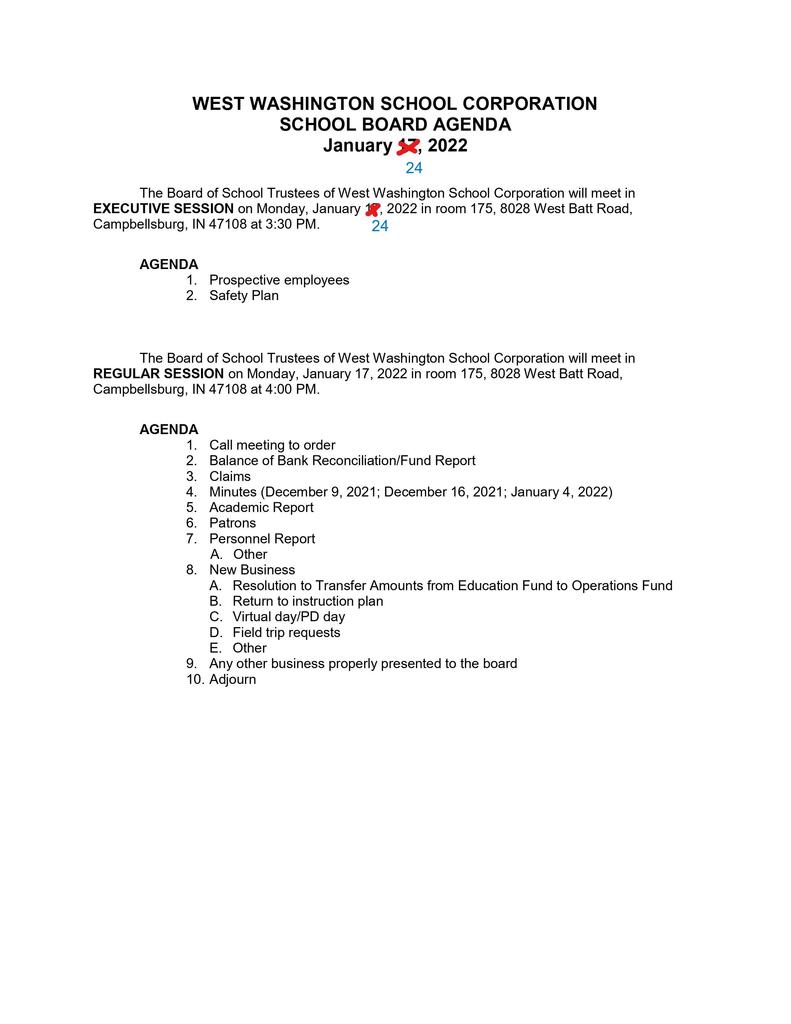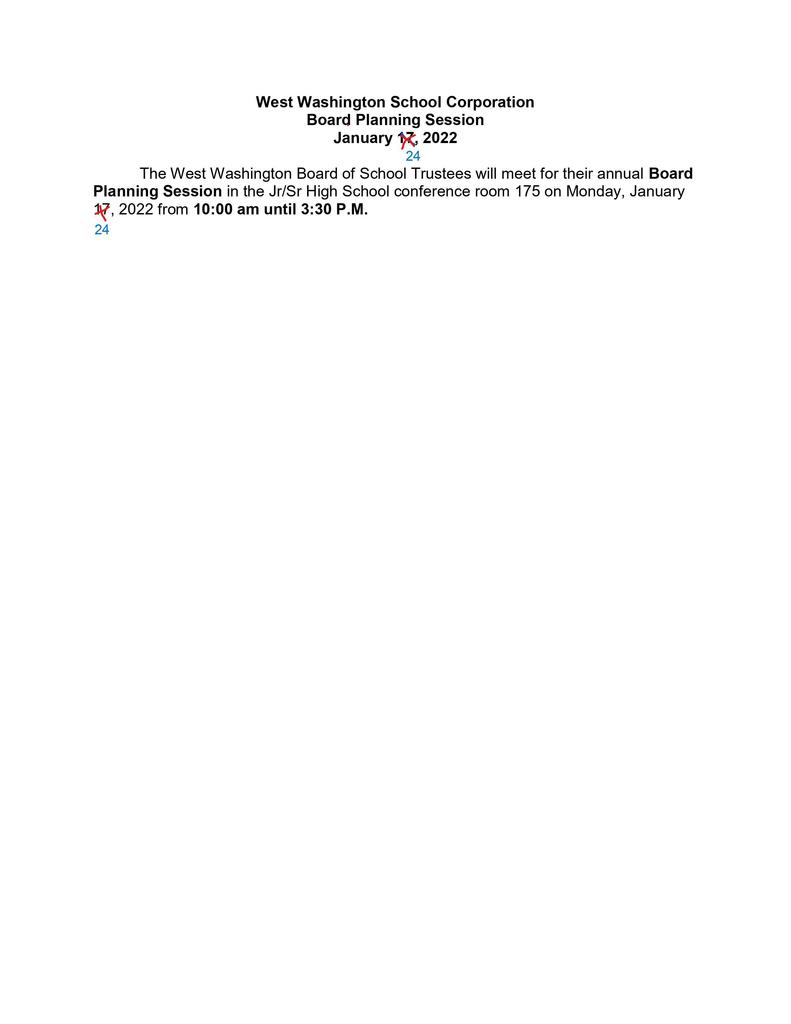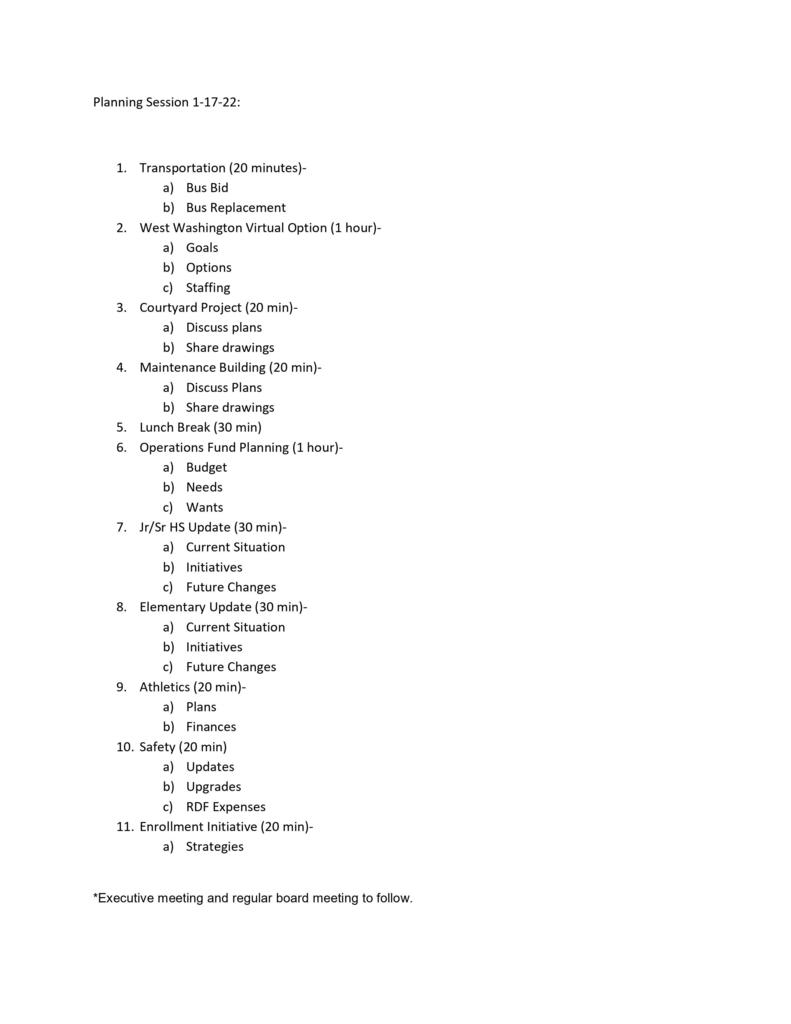 WWSC will move to virtual instruction from Monday 1/17/22 through Wednesday 1/19/22. The West Washington staff has been hit hard by this surge in Covid. We powered through this week of school, but the number of staff out sick grew exponentially each day. We already know that we will be shorthanded next week. We are attempting to keep this move to virtual as short as possible to allow us to get closer to full strength. It is our intention to return to full in person instruction on Thursday 1/20/22.
https://bit.ly/3rh4wgh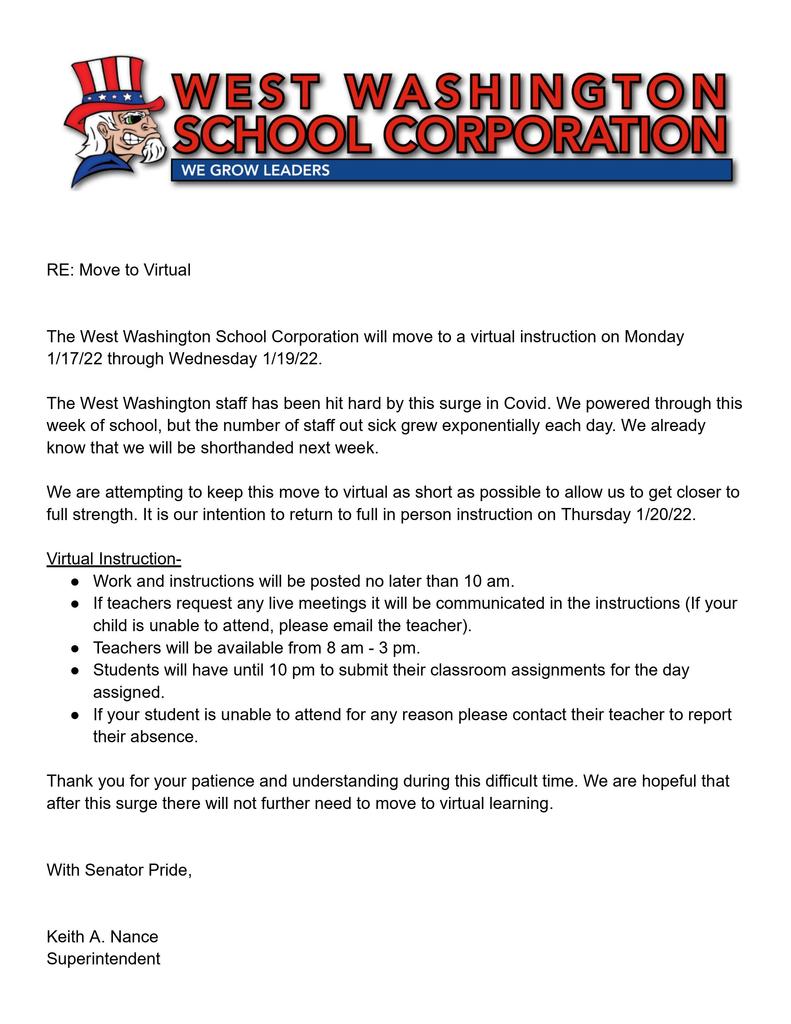 Emergency Executive Session (Virtual)


Children that ride Bus 5 will ride a different bus this evening and tomorrow. This may change the time that they are picked up and dropped off. Please be ready and keep an out for the bus.

The weekly Covid Metric for this week is RED. Masks remain required through 1/19/22 when updated weekly data is released. With this most current round of Covid we are experiencing higher absenteeism and staffing is getting thin. If you or someone you know is interested in subbing as a teacher at the school, driving a bus or subbing in another area please contact us today! 812-755-4872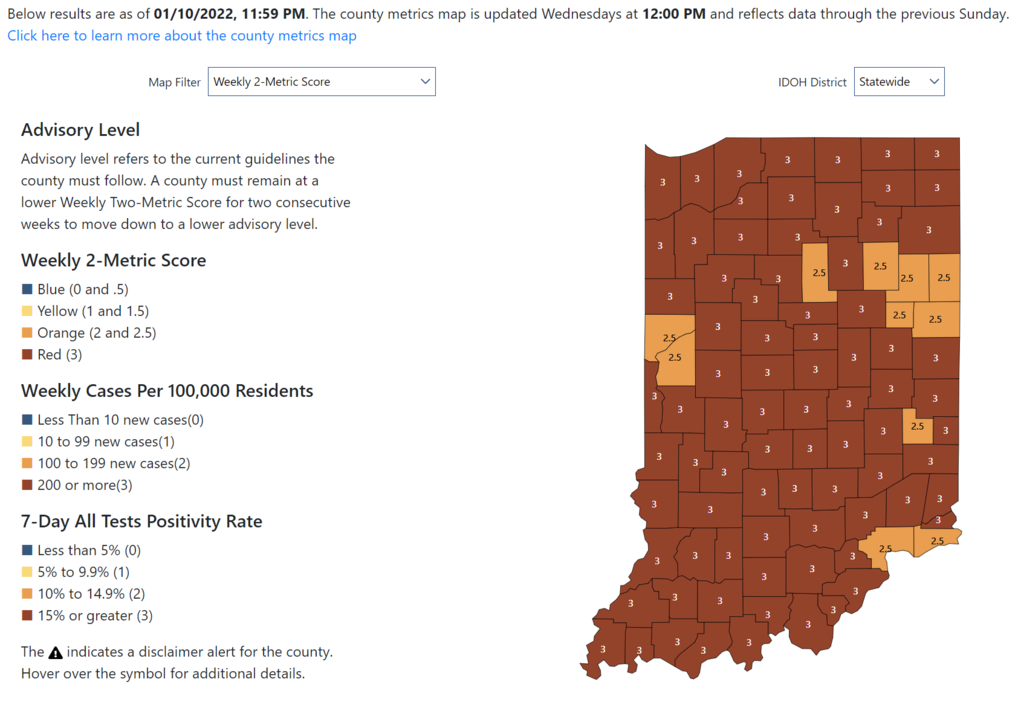 WWSC CLOSURE ANNOUNCEMENT- WW will now be closed and have a virtual day today, Friday 1/7/22. Many side roads in the southern portion of our school corporation remain slick. Particularly Posey and southern Howard Township. In addition, the very cold temperatures create a scenario where we don't want students waiting at the bus stop for extended time if a bus is delayed due to road conditions. Teachers will have materials and instructions posted prior to 10 am. Students should check their Google Classrooms and follow the instructions and lessons provided by their teachers.

WWSC will be dismissing at 1:00 pm today, Thursday 1/6/22. We will be on a 2 hour delay Friday 1/7/22. All afterschool events and practiced are cancelled for Thursday 1/6/22.

Mask Update- WWSC will still require masks through 1/12/22. This is due to that the fact that the Washington County Metric is RED. The county metric will be updated on 1/12/22. An announcement will be made when the metric is released.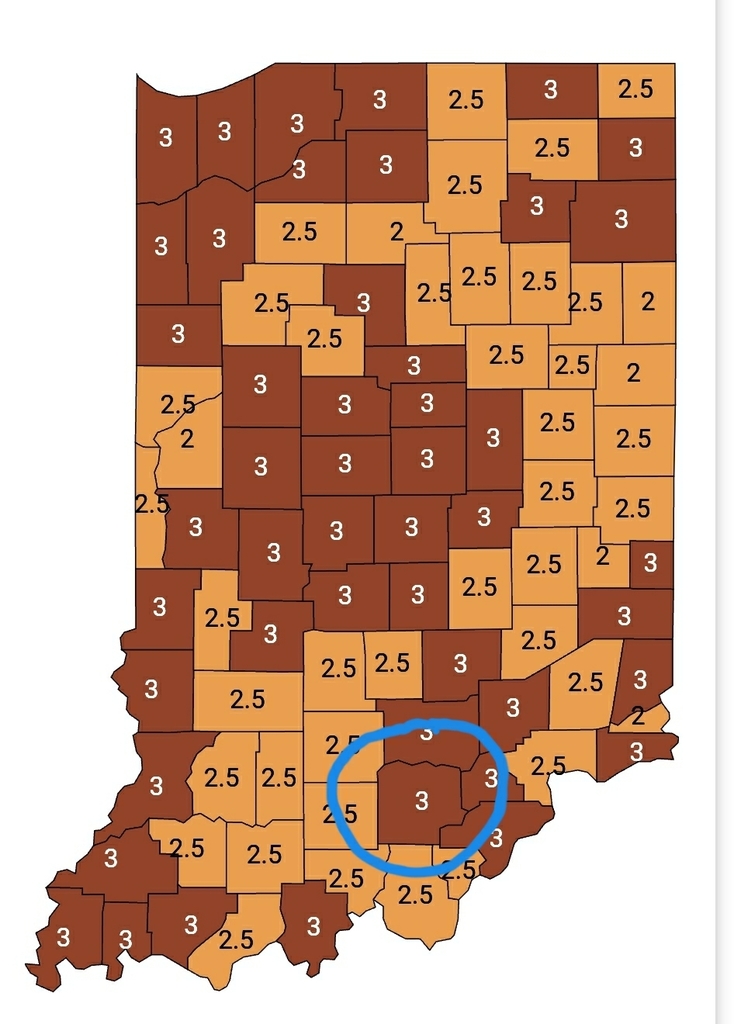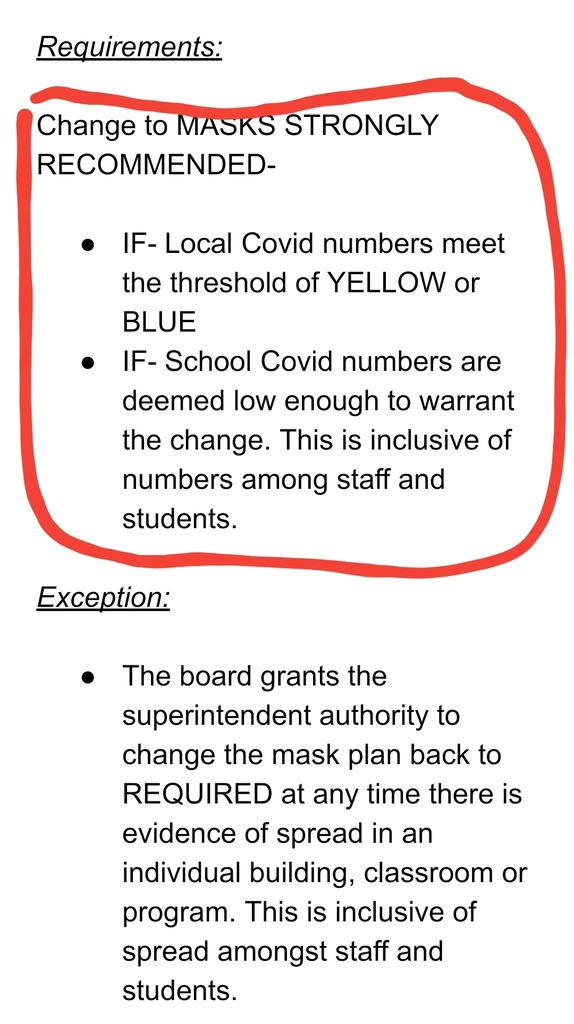 Tomorrow's forecast is variable depending on the forecasting outlet. After participating in the NWS conference call a decision about school on Thursday cannot be made at this time. However, if weather were to hit suddenly it could be necessary to implement an early dismissal. We ask that parents review and plan for potential early dismissals for the instance that it may be necessary. Linked is the schools protocol for determining inclement weather closings. It includes decisions based on snow, temperature and more.
https://bit.ly/2N9Xv0y
Information about Friday's temperatures should be clear by Thursday afternoon giving us the ability to make a decision early. Any decision will be communicated ASAP.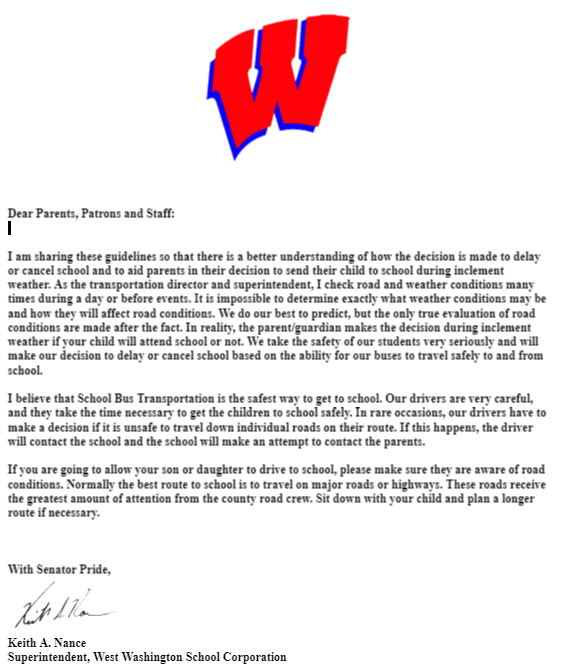 Annual Finance Meeting & Reorganization Meeting Draft Minutes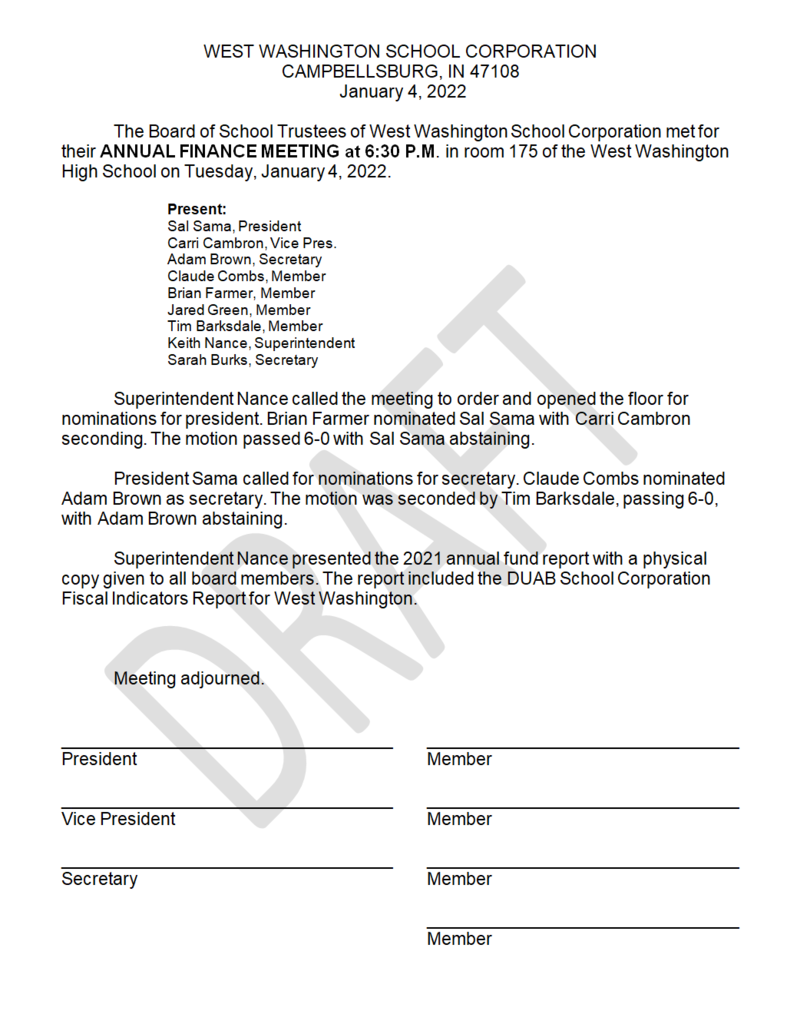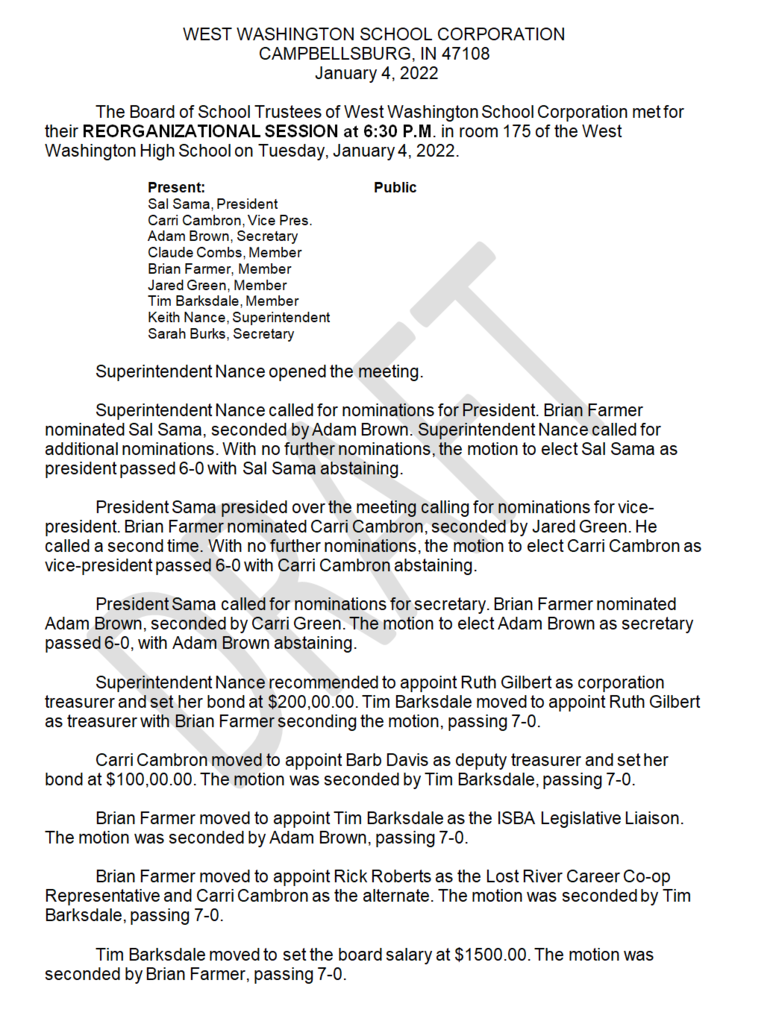 A test of our all call and text message system will take place this evening. If you do not receive a text alert or automated call please contact your school's office to update your information.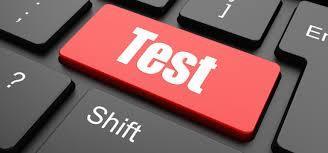 The return to school plan has been updated with the most recent changes implemented by the CDC. Covid Plan-
https://bit.ly/36QQbNC

The weather has turned cold and by the end of the week it will be VERY cold. If your child is in need of a winter coat please contact your child's school office and we will get them one. Elementary: 812-755-4934 Jr/Sr HS: 812-755-4996 #WWeGrow SAFETY

January- Lunch and Breakfast Menu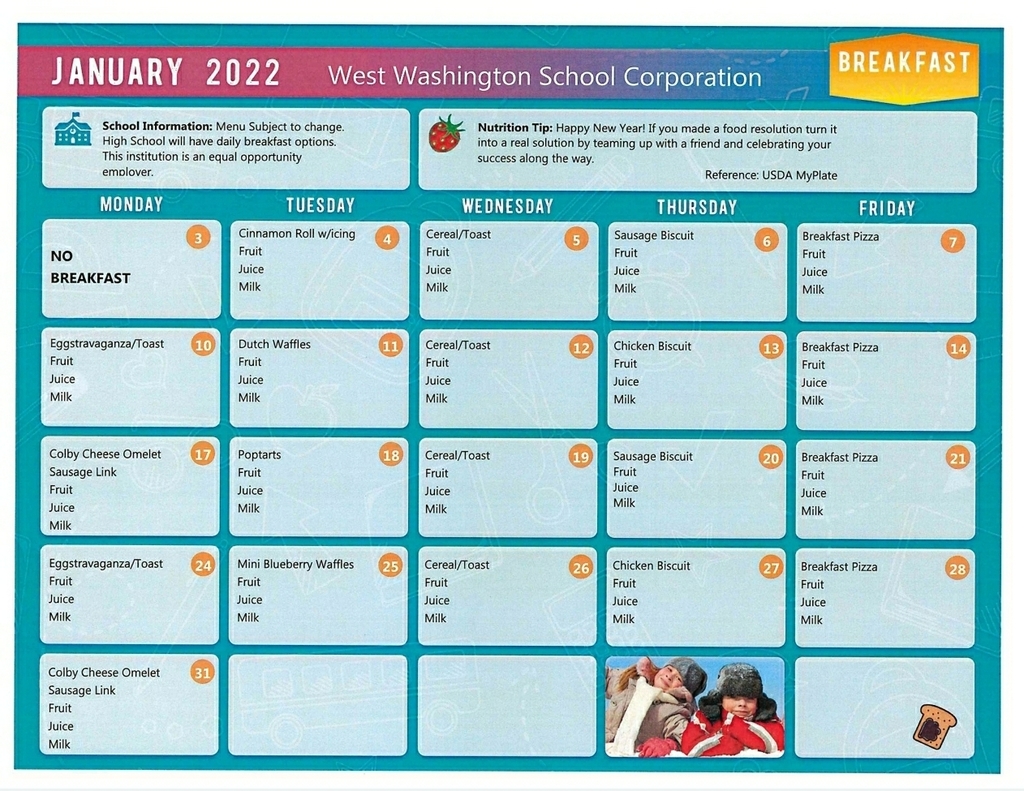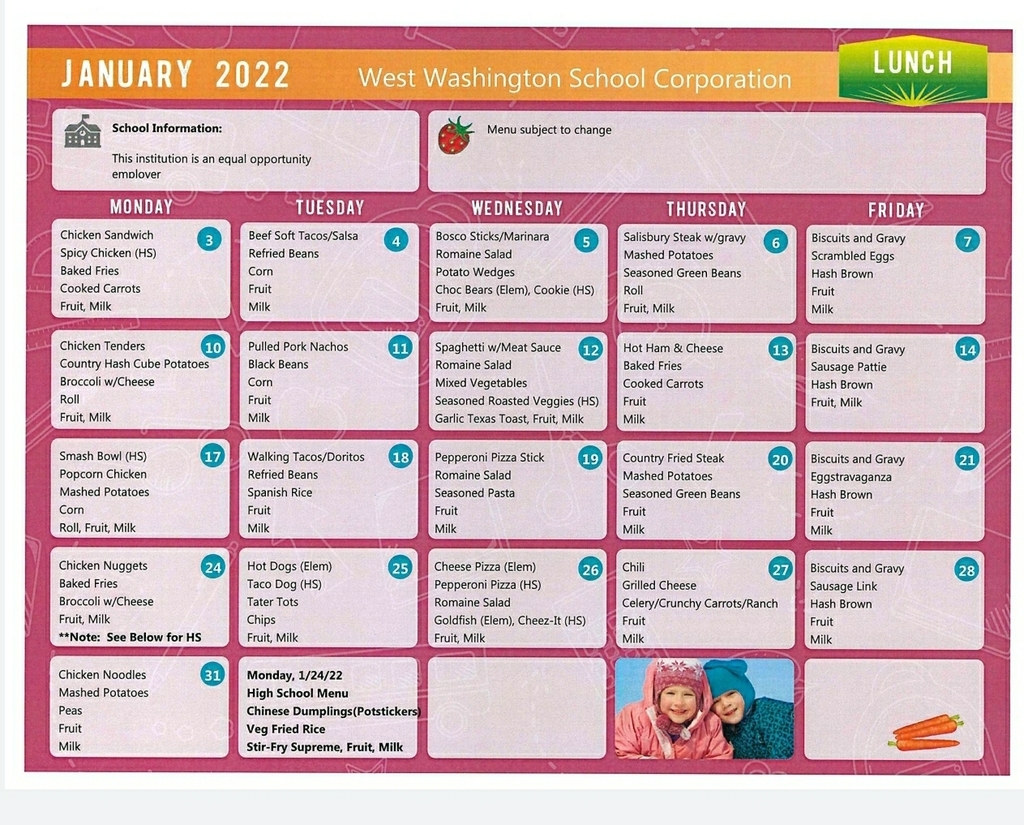 WW wants to thank everyone that donationed to the Senator Closet for the food boxes prepared for students. Pictured here is kindergarten student Hattie Jones. She went to the grocery and picked out all of her favorites to send home with another student. Also pictured are Cash Long, Lane Hoefler and Mason Jones who helped pack boxes.