This past weekend West Washington's own Caleb Murphy had his first career start as an Indiana Hoosier anchoring the line at Center for the offense that made just enough plays to record a 33-30 victory of Western Kentucky in Overtime.
Starting Surprise
The path to getting the starting nod was as unique and unexpected as it was exciting for him and for his family and friends in attendance at the game. Murphy found out that he would be the starter after redshirt junior Zach Carpenter suffered an injury in the pregame warm-ups.
Murphy, a redshirt sophomore, has seen action this season and in previous seasons on special teams units. Getting the nod to anchor the offense at center was a moment that shocked him and those in attendance.
Murphy explained, "I was excited when I found out that I was going to start just minutes before the kickoff on Saturday. It was short notice, but I fell back on my preparation and teammates to perform when I was given the opportunity."
Just prior to his first snap, Superintendent Keith Nance noticed Murphy standing with the 1st Team Offense.
"I looked on the sideline and I could not believe what I was seeing. I nudged my son Clark and told him that I thought Caleb was with the starting offense. A few minutes passed during the TV timeout and I realized he would be starting. I couldn't tell everyone fast enough. I text his family, former coaches, anyone I could think of. I started yelling to anyone around me that would listen that #55 was starting at Center!", Nance remembered.
Todd Murphy recalls the shock when he realized his son would be starting his first game. "Keith texted me saying 'Caleb is starting?'. We saw him run out onto the field. I jumped up and grabbed my wife and screamed in excitement."
Surrounded by family and friends, the Murphy's shared a prideful and emotional moment with those they love most.
Samantha Nance had a similar experience watching with her family. "Getting to watch Murphy living out his dream made me feel so emotional. I was able to watch with my family and we couldn't take our eyes off the game. I have witnessed him work so hard and sacrifice so much for that moment. It meant everything to me to be able to watch him represent his family, our home state and our high school."
Pictured: Murphy embraces Samantha and Clark Nance after an emotional overtime victory against WKU.
Linked video of #55 Caleb Murphy's first play as the starting Center at Indiana University-https://bit.ly/3SeKXAX
For Murphy and many of his supporters in attendance, the game was a blur. "It all happened so fast that there was no time to think about it. I just played. I can't wait to rewatch the film. We had 97 offensive plays, they kind of run together", commented Murphy.
The game was full of highlights, but one that stuck out to everyone was the first Hoosier TD of the day. The reaction from Murphy was captured on video from the stands.
Linked video of the Hoosiers 1st Touchdown of the game and #55 Caleb Murphy's post TD celebration- https://bit.ly/3LrZHKz
Friends and Family in Attendance
One thing that there is no shortage of for Murphy is support. In attendance were more than a dozen friends and family screaming and occasionally crying from the stands. Hundreds more tuned in from home perched on the edge of their seats zeroed in on #55 and not much else.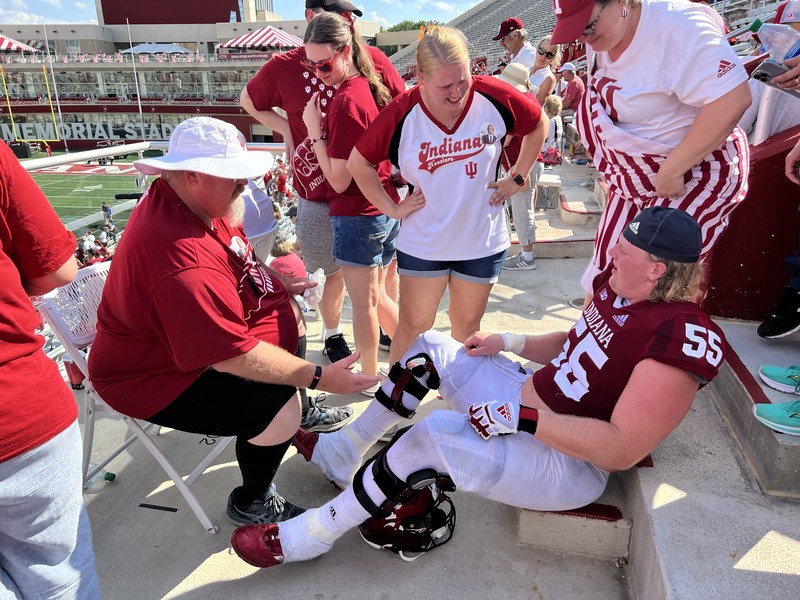 Pictured: Todd (dad), Donna (mom) and Amy (sister) show their love and support for Murphy at the conclusion of the game.
Pictured: The Nance Family prepare for a great day of football prior to the big surprise of Murphy's first start on offense.
Pictured: Kelly and Titan Williams traveled north to Bloomington to support the Hoosiers and #55 Murphy.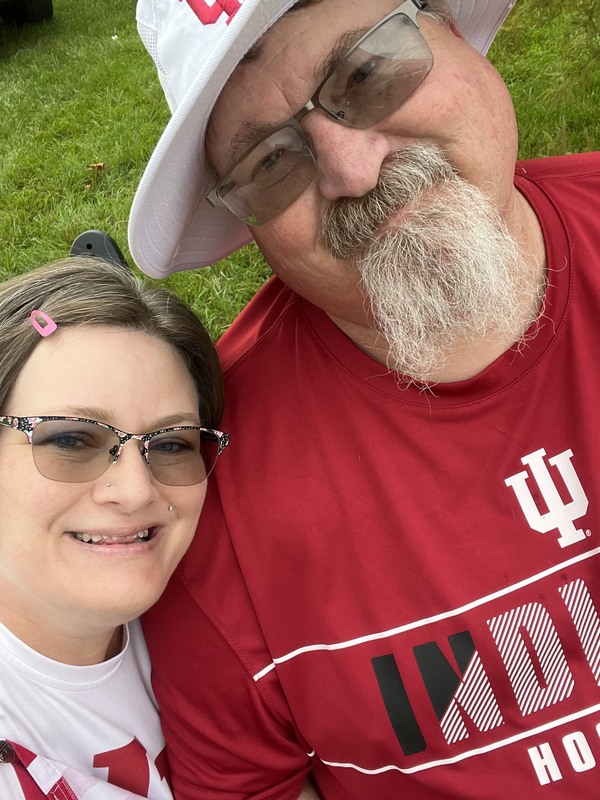 Pictured: Proud mom and dad smiling ear to ear after Murphy's first start.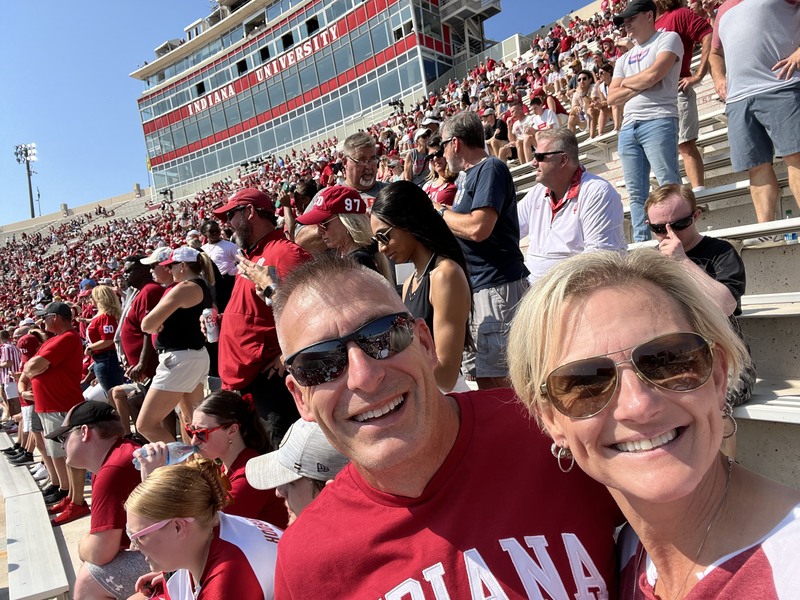 Pictured: Carrie and Jessica Huls attended the game to support Murphy. The Huls' attend church with the Murphy family and are proud WW community members.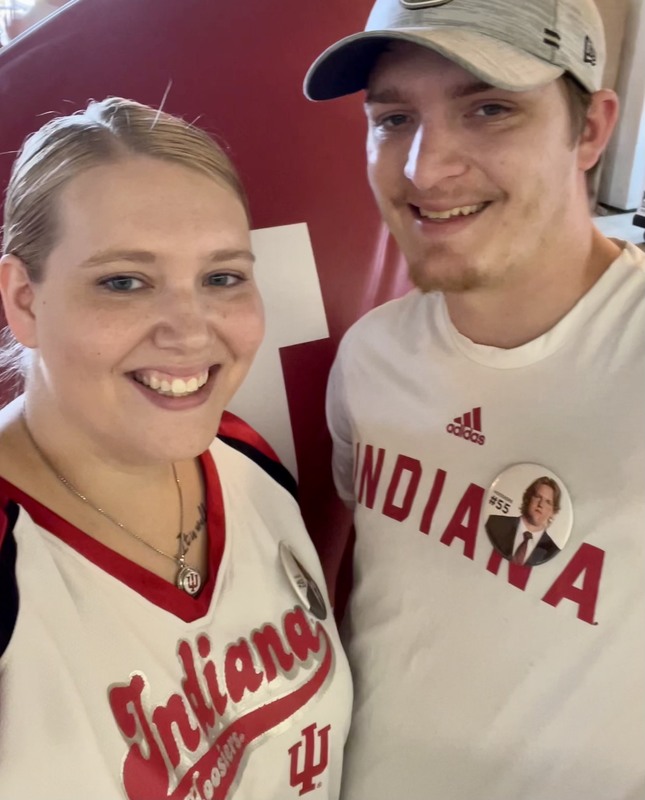 Pictured: Sister Amy and brother-in-law Tim are all smiles after the BIG day.
Murphy stated that it felt that much better to have the support of family and friends. "It felt great to have the support of family, friends and community when playing on Saturday. They all had a part in forming the person I am today. It was really special to get this opportunity with so many people I care about watching and cheering me on."
Postgame Celebrations and the Future Ahead
Following the emotional win, there were plenty of emotions within the TEAM of family and friends in attendance. Special moments were shared and images/videos captured to commemorate the moment.
"Throughout the game we all shed tears of joy and pride," commented Todd Murphy. He added "In the most manly, football sort of way, of course!"
"So many years of dreaming and hard work wrapped into one spectacular moment!", the proud father commented.
Being from a great program and community like West Washington is something that Murphy doesn't take for granted. He mentioned the support he received in achieving his dreams is one of the things he is most grateful for.
Murphy explained, "Representing West Washington and the county the right way while playing for the Hoosiers is important to me, because they have meant so much to me. I want to prove that big time athletes can come from rural Indiana communities like West Washington. I want everyone at home to know that they can do it too!"
Link to Twitter Video Posted by Indiana University Media-https://twitter.com/Caleb_Murp...
Link to video taken after the game as Murphy shares a moment of love and support with family-https://bit.ly/3BsAqeN
In the postgame press conference teammates and coaches had complimentary remarks about Murphy's first start. They highlighted his attitude and effort that helped Murphy get to this point and be prepared when his number was called.
Link to Hoosier's QB Connor Bazelak's Postgame Comments about Murphy- https://youtube.com/clip/Ugkxn1EuGs-Y-6hAYdHBXq7rvpOyw1ZEXoKL
Link to Hoosier's Head Coach Tom Allen's Postgame Comments about Murphy- https://youtube.com/clip/UgkxHHCDMzsfkj8hUKKSVK5MoQSLAtjocj8O
Monday following the game, Murphy was informed that he had been unanimously selected by the coaches as the Offensive Player of the game. Rarely is an offensive lineman singled out in this way, but his ability to step up when his team needed him most made him an obvious choice.
Link to Twitter announcement by Indiana Football- https://twitter.com/IndianaFoo...
With the Hoosier's starting Center out for the foreseeable future, Murphy finds himself in a new role, the number one Center on the depth chart. This is undoubtedly exciting news for the former Senator who received high grades for his performance against Western Kentucky.
The Hoosier's hit the road on September 24th for a tough contest against an out of conference opponent that is ranked in the Top 25 by various ranking sites. You can bet that there will be a convo of Senators making the trip to Cincinnati this weekend!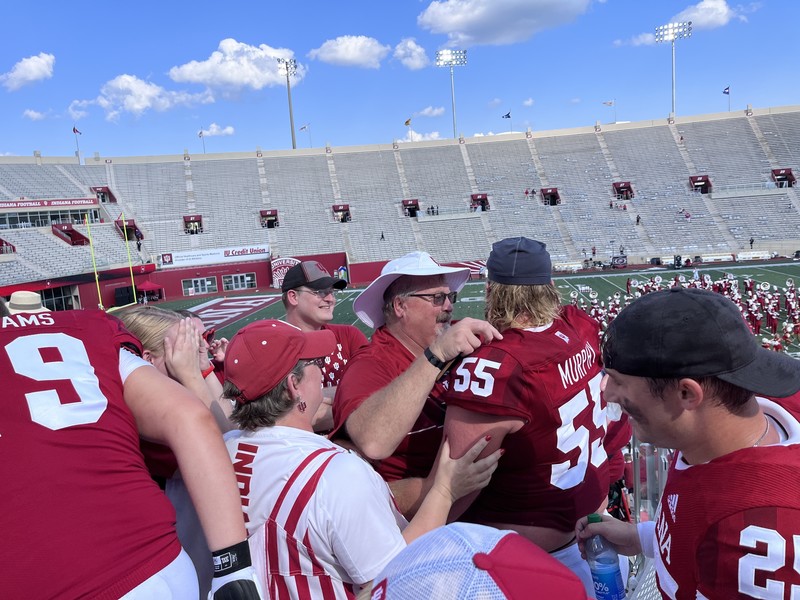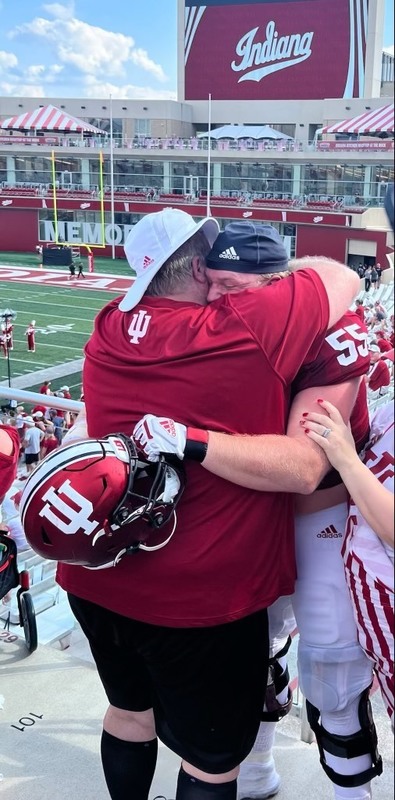 Pictured: Murphy shares a loving embrace from his parents after the game.
Additional Articles About Caleb Murphy's First Start as an Indiana Hoosier:
https://hoosierhuddle.com/hoos...