The importance of timing is often overlooked. A situation can have all the right aspects necessary for success, but if the timing is wrong, the results can be underwhelming. On a football team, timing is everything. While one may not know when their time may come, it is vital that they be ready for it.
When teams have several weapons, one may be the role player, or the star week over week. What makes a team special is when individuals put the team above themselves, and through three games so far this season, these Senators seem to just want to win, no matter who gets the recognition.
The Senators would take that attitude to the field this Friday night, and prevail 38-8 against the Mitchell Bluejackets.
"We talked all week about handling the details," said head coach Jeremy Lowery. "When we focus on doing the little things right, good things happen."
The Senators would receive the football first and march down the field, capping the drive off with junior quarterback Kenton Chase keeping the ball around the left side to score from 22-yards out. Mitchell would go three and out and punt the ball back to the Senators for their second possession.
Chase would waste little time getting back in the end zone, this time attacking with his arm as he delivered a 30 yard strike to junior slotback Greyson McCoy. Senior linebacker Bradley Hampton would end the next Mitchell drive with a sack, and a great special teams play to block the ensuing punt set the Senators up at midfield. A few short plays later, sophomore tailback Hudson Cress would find pay dirt from 5 yards out to give the Senators 20-0 at the end of the first quarter.
On Mitchell's next possession, sophomore defensive end Landon Holloway would get a tackle for a loss on 3rd down, and on 4th down McCoy would come up from his free safety position to force a fumble recovered by Cress.
The teams would trade possessions before Chase would score his second rushing touchdown of the evening from 18 yards out. The Senators would get a 4th down stop at midfield, getting the ball back with less than 2 minutes. The Senators would execute and quickly cover 50 yards, with Chase using his legs again to score from 5 yards out with under 10 seconds until half.
With a 32-0 edge at half, the Senators would not let up in the 3rd quarter. McCoy would end a Mitchell drive with an interception returned 60 yards to the Mitchell 20, and on the next play, Chase would find junior wide receiver Jaxson Cambron sprinting behind the Bluejacket defense for a 20 yard scoring strike.
Mitchell would add a late score to make the final 38-8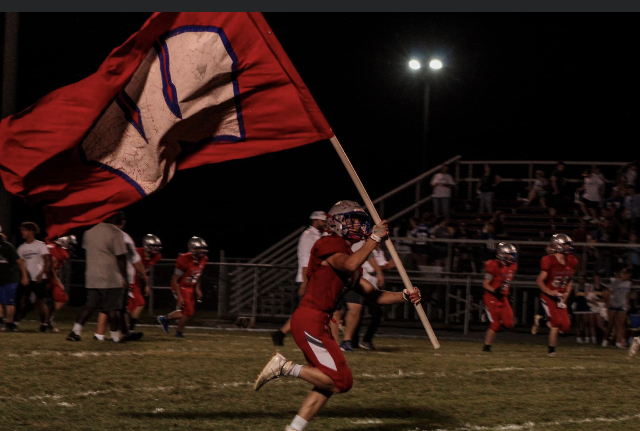 West Washington is in action next Friday at Springs Valley.