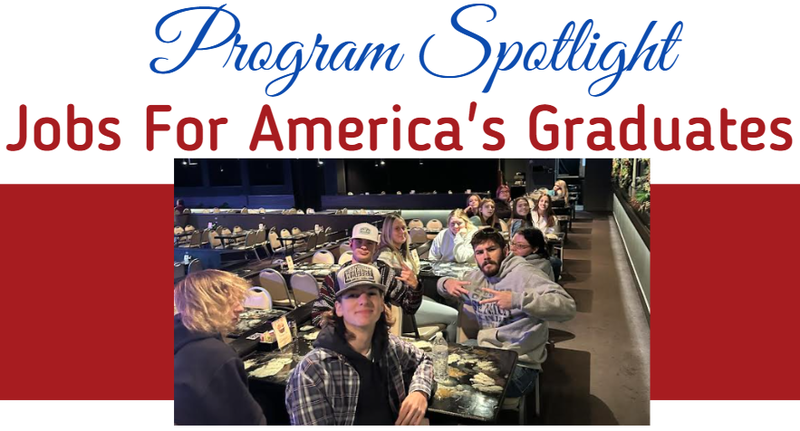 JAG, Jobs for America's Graduates, is a state-based national non-profit organization dedicated to supporting young people of great promise. The JAG vision is to ensure that every young person is prepared for the future. This is carried out by the JAG mission of empowering our nation's young people with the skills and support to succeed in education, employment, and life.
\r\n
The JAG Program at West Washington is instructed by JAG Specialist, Aliviah Popp. This program is available to any student grades 10-12. "We help students figure out what they want to do after high school whether that is college, career, military, whatever they want to do we support them. We help them gain employability skills that will help them be successful in their future. We go on field trips to expose students to different business avenues, as well as take college tours for the college bound students. JAG is meant to be a safe place for students to explore their interests and explore what jobs they can relate to those interests. We also do community service work to get them hours to put on their resume. All this work is done during class and on campus. Right now we are remodeling the Senator Closet and will be in charge of getting donations and sorting through everything for that," explained Mrs. Popp.
\r\n
Each year JAG students have the opportunity to show off their talents by participating in the annual Career Development Conference (CDC). The CDC includes general sessions, competitive events, educational workshops, leadership development training, and college and career exploration. At this year's regional level CDC competition, West Washington had ten students compete resulting in eight of those students bringing home awards. This event was hosted at Ivy Tech in Sellersburg providing students the opportunity to attend a job fair, as well as workshops while they were present that day. Grace Wilson and Savannah Bowers placed first and will be competing at the state level in March. Additionally, West Washington placed first in the regional chapter commercial competition and will go on to be judged at the state level.
\r\n
The JAG program at West Washington is thriving under the leadership of Aliviah Popp. This is apparent when you hear Senator students talk about the program.
\r\n
"The West Washington JAG program has allowed me to get a good idea of what I want to do in my future. We recently competed in the CDC and I participated in entrepreneurship and made a business plan for the cattle company I want to start after I graduate, which was really fun and beneficial for my future. I think JAG is extremely helpful and gives students the opportunity to explore careers and prepare for the future even if they don't want to go to college. I have had a lot of fun with JAG this year between guest speakers and field trips." - Harlee Payne
\r\n
"What I love about JAG is that it has helped me prepare for life after high school and helped me decide what career I want to pursue and the skills that will help me succeed. " - Alexis Mousty
\r\n
"A few positive experiences I've had while being a part of the JAG program would be that it helped to open my eyes to see that college was the best fit for me. Not only that, it also helped me figure out the best campus and college style for me. The way they did this was for us to actually go and look at these college campuses and learn what was different from each one. Another positive would be the program teaching us what to do with our strengths, weaknesses, and experience." - Abigail Chanley
\r\n
If you are interested in joining or have any questions about JAG, please contact our West Washington JAG Specialist, Mrs. Aliviah Popp.