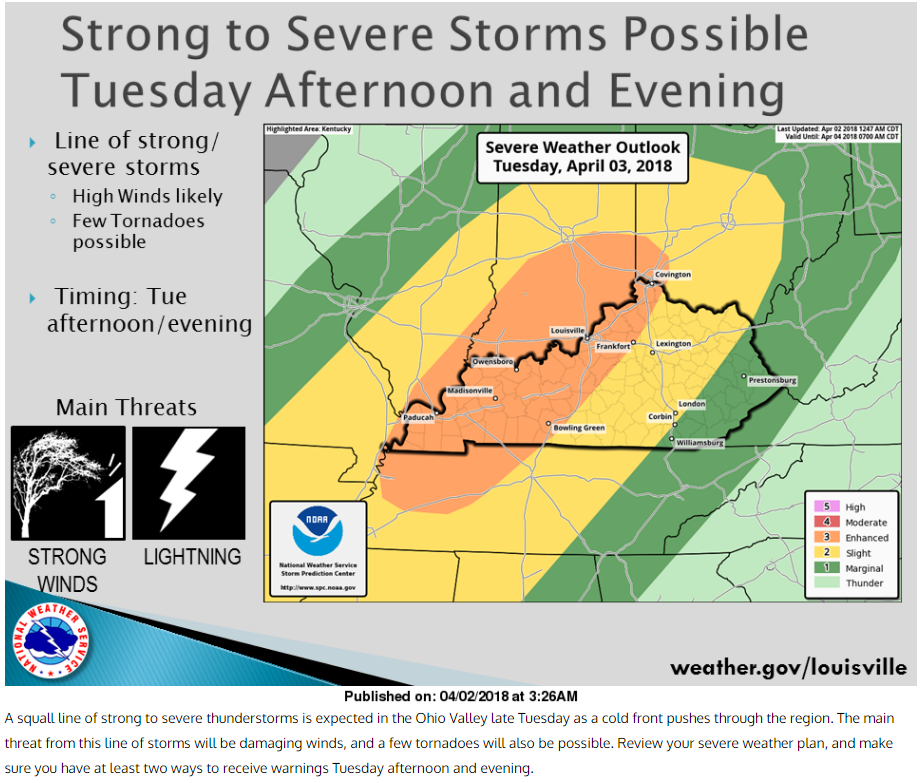 Severe Weather Statement
West Washington School Coporation
Monday, April 02 2018
Tuesday afternoon into the evening there is a threat of severe weather. With that in mind, we are reviewing our plans for severe weather particularly severe thunderstorm and tornado watches and warnings.
To prepare we want parents to understand how we will react and why.
Beliefs:
-WWSC believes that our school building is structurally stronger than the average house. A steel frame with brick exterior and block interior create a strong structure.
-High profile vehicles (school buses) are susceptible to high winds and accidents when wind is severe (>50 mph).
-WWSC believes that we should not move or transport our students from school if a WARNING has been issued or a watch is in effect and potential for a change to WARNING within our transport hours is imminent based on NWS forecast.
-WWSC believes that is safer to hold students rather than dismiss early. Therefore, we will NOT dismiss early if a warning is announced. It would be extremely rare to dismiss early due to impending severe thunderstorms or tornadoes.
Procedure:
-If a WARNING is issued or most recent forecast dictates, the school will delay dismissal until it is deemed safe to travel.
-During an active WARNING, students will not be allowed to leave the building. Student drivers must remain in the building. Parents that arrive to pick up their children will be asked to join their child in our building.
-If a decision is made to hold students, then a message will be released via our website, social media and ALL CALL system. A follow-up message will go out when we decide to dismiss.
PLEASE SHARE
#WWeGrow SAFETY